The classic media release format is still going strong. And thanks to email and social media, it doesn't take an expert – or a huge budget – to get one out into the world. But the low cost of issuing a press release means there's more competition than ever. This guide explains how to write a media release journalists will want to publish.
What's the point of a media release?
A media release is your chance to script the public discussion around your company. Although advertising gets your narrative directly into the market, there's no substitute for the authority of a well-respected publication covering your brand – without being paid to.
Businesses no longer rely on costly wire or postal services to get their news to journalists – that's what email is for. And because media releases are so cheap and easy to send, companies don't reserve them for the big news events, or to nip a major incident in the bud. Now, every report, personnel change and new product is worthy of a worldwide memo.
But even as businesses are sending out more media releases, the pool of journalists left to craft them into news stories is contracting and often under-resourced. Editor Group is a stronghold of former journalists, all of whom can attest that reporters have more releases to read and less time to do it. So, often they don't.
It's just one reason why some people argue that after a long and successful career, the press release is dead.
Alive and kicking
According to a 2018 Zeno Group and Muck Rack survey, just 3 per cent of journalists rely 'heavily' on media releases. But the same survey showed that over 30 per cent still rely on them 'somewhat'.
To adopt the awkward language of statistics, that 30 per cent is not insignificant. Do not underestimate the benefits of communicating with so many journalists. The press release is still a formidable tool in your communications arsenal. You just have to sharpen your writing skills so yours stands above the rest in a journalist's overcrowded inbox.
All in the subject line
"I delete most releases after about 0.5 seconds spent on the subject line." This is the confession of Derek Thompson, an editor at The Atlantic, when interviewed for Robert Wynn's book Straight Talk About Public Relations. Research by the marketing agency Greentarget suggests that Thompson is not alone: 79 per cent of journalists say the email subject line determines whether they open a press release.
Journalists may ignore a media release if they don't recognise the issuing company's identity, which often features in the subject line. This is why media releases from major brands often get widespread attention even if they convey relatively minor developments. The subject line 'Vodafone Chooses Google Cloud as Strategic Cloud Platform for Infrastructure, Data Analytics, and Machine Learning' for example, probably wouldn't wash if the companies in question weren't so omnipresent. Smaller companies need to work harder by creating captivating subject lines that promise newsworthy information.
But while an arresting subject line is a must, it's also important to avoid sounding like clickbait. 'How our new CEO starts her day will SHOCK you' will go straight to the spam folder, and you know it. Stick to the facts, clearly put. Remember: the media is not your customer. Your subject line doesn't need to 'hook' the reporter, it just needs to show them your release is newsworthy.
Now that you've got their attention …
We could write a whole post about writing an email subject line your recipient will actually want to open. In fact, we already did. But in a media release, the contents are even more important.
Firstly, congratulations if your media release is even opened! Unfortunately, most journalists will only spend 60 seconds reading it. So let's make that minute count.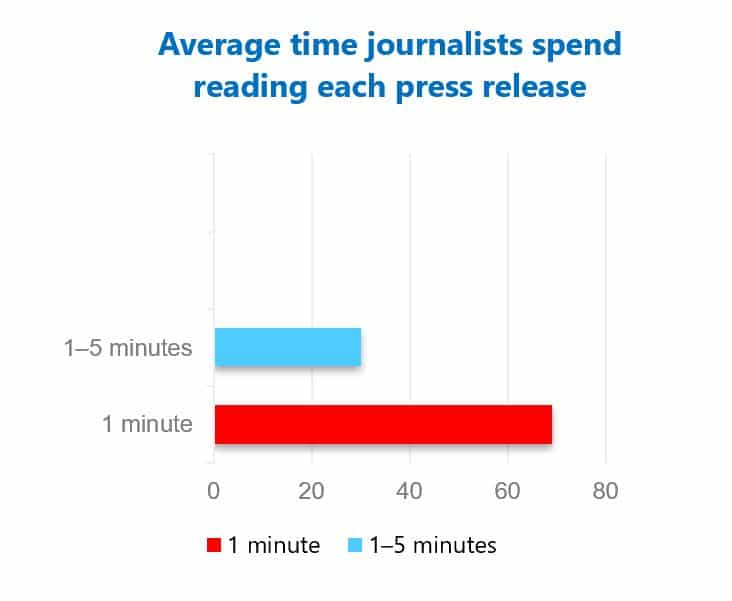 From Disrupting the Press Release, Greentarget, 2014.
You need a headline that's punchy, informative and tailored to the reporter who's looking at your press release. The title should read like the sort of headline this journalist – and their publication – regularly publishes.
When an IT journalist receives a Microsoft press release titled 'Windows 10 Fall Creators Update and Mixed Reality Headsets Available Today', they know they're not an accidental CC in that day's circular. The technical nature of the headline lets them know the media release is tailored to their readers' interests. So they pick it up. Although Microsoft may also issue a media release titled 'Fruit distributor gets sweet taste of success in the cloud', they'll send this one to reporters who have a more general readership (and perhaps a focus on business logistics).
"You have to know me and what I write about, not just pitch a story because it's about business," says Thompson, who focuses on business and economics. Charles Fleming from The Los Angeles Times concurs: "Pitch me something that shows you know my publication and my area of coverage, and that you read it often enough to know that we already did this story a week ago."
What's in it for them?
As you finalise your headline and start working on the all-important lead paragraph – you've got 60 seconds, remember – consider how you might frame your media release to make it more interesting to the reporter and their readers.
Can you tie it to that day's headlines? Could you link the announcement of a new team to broader trends in your industry? Or frame the service you're launching as a means of improving public happiness, productivity or health?
In Greentarget's report, the press releases journalists find most valuable contain thought leadership material like reports, studies or surveys. The least valuable? Personnel changes –unless the release comes from, say, your nation's government or a ubiquitous global corporation.
Make the reporter's life easier
A great media release does a lot of the journalist's work for them – remember, they're under-resourced and oversupplied. Include infographics, relevant images and newsworthy quotes. According to the Zeno Group and Muck Rack survey, 41 per cent of journalists consider how shareable a story is on social media when deciding whether to publish, so keep it brief and don't hesitate to include video content.
"Make your assets easily available," says Christina Warren, senior tech analyst with Mashable.com. "If you have video, make it available as an embed. Have appropriately sized screenshots."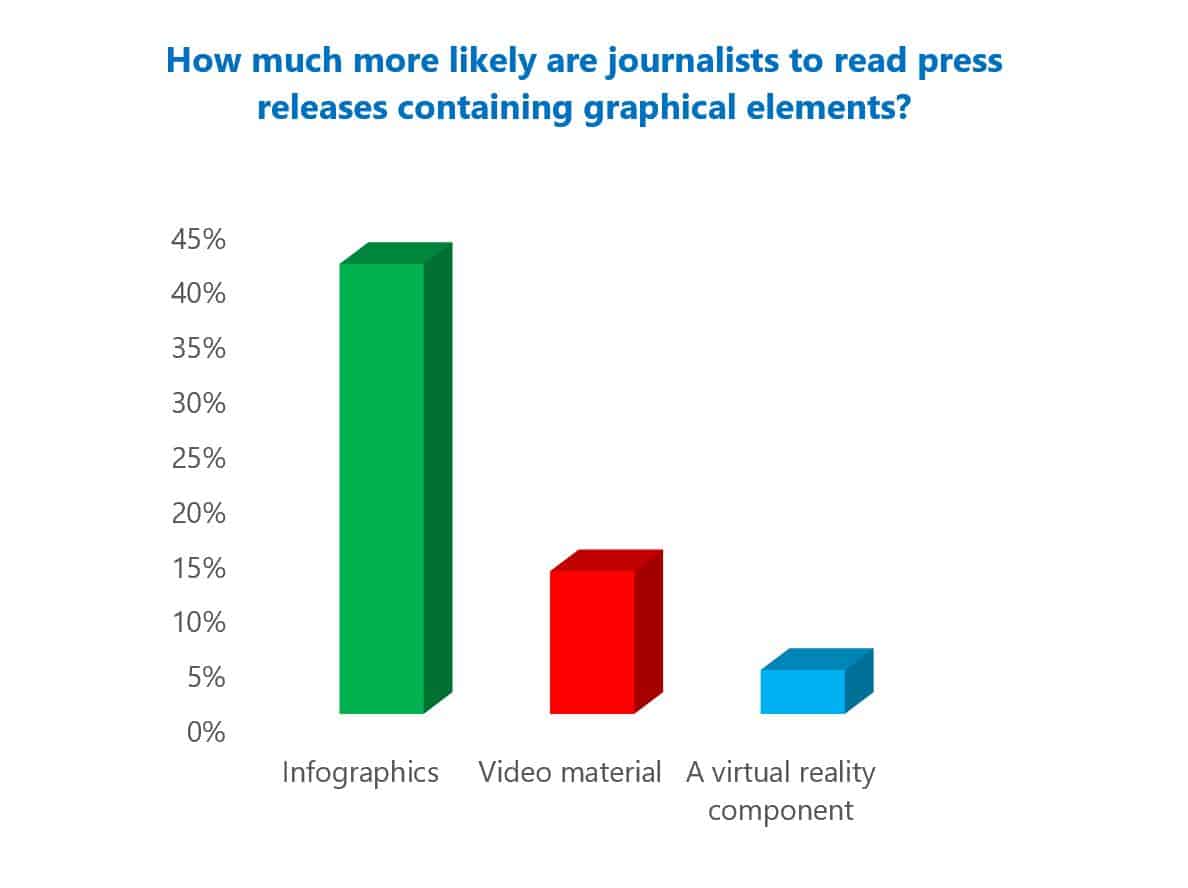 Crucially, you must include a media contact at the end of your press release. If you have access to an industry expert journalists can contact for further information or quotes, include their details too.
How do I actually write the thing?
Be precise. Be economical. Get to the point. The Greentarget report reveals that 55 per cent of reporters prefer their releases as bullet lists. Lists force succinct writing, so they're easier for reporters to quote verbatim.
Don't be afraid to use this method but remember that the purpose of a media release is to let your organisation tell its own story. As long as you can write clean, clear copy that doesn't go into raptures over your new product or merger agreement, a journalist is more likely to quote it verbatim.
"National Australia Bank today announced that it will keep open NAB branches located in regional and rural Australia until at least January 2021," read the opening of NAB's press release of 20 March 2019. The same day's Australian Financial Review led with "National Australia Bank will keep its 316 branches in rural and regional areas open until at least January 2021".
According to NAB's press release, new hubs opening in regional centres "will employ 73 specialist bankers with local experience in small business and agribusiness". The AFR report: "73 bankers with experience across small business and agribusiness lending will be employed across these hubs."
Do you see a pattern here? A well-written media release gives you control over the tone of the published story and – importantly for SEO – its wording.
Beyond journalism
These days, getting a journalist to 'pick up' your media release isn't the end of the road. The internet works in mysterious ways …
Although companies do still issue releases to the media, they usually post the same updates on their own website and social media accounts too. And why wouldn't they, given 52 per cent of Australians now look to social media for their news? The Pew Research Centre shows a similar situation in the United States, where the number of people using social media to access news surpassed those turning to print in 2019.
Consider the case of console gaming giant Nintendo. In 2015, the company posted a press release introducing its new Vice President of Sales, who shares his name with the in-game antagonist Bowser. The gaming public found this so amusing that even without the aid of traditional journalism, Nintendo's release got half a million views in a single day. Sixty per cent of those views originated on social media.
Of course, traditional media then picked up the story, landing Nintendo in a paradise of free publicity.
Owning social media
Posting on your company's Facebook page or sending a quick tweet seem like simple ways to get your statement 'out there', but some of the old rules – and a few new ones – still apply.
Although broadcasting your own media release eliminates the effort and cost of securing external distribution, it requires a different – and equally demanding – investment.
For maximum shareability, you need to tailor your release to each social media platform – including its formats, tone of voice and user base. You may need to reword one press release multiple times – so it speaks to the interests of your contacts on LinkedIn, strikes a conversational tone with your customers on Facebook and boils down to a brief bon mot your Twitter followers are likely to retweet.
And even though you're bypassing the journalist, your press release must still be newsworthy, factual, clearly expressed and free of errors. You may have eliminated the messenger, but the work still has to be done.
Be heard above the crowd
The product you're launching today might be about to revolutionise your customers' lives. Your company might be publishing the most groundbreaking thought leadership to emerge from your industry in decades. But if you can't show a reporter in 60 seconds – or a social media user even faster than that – why your news is relevant and interesting, nobody's going to hear about it.
If you're struggling to put out a strong media release, don't know where to start or just don't have time to worry about it, get in touch. Many of us at Editor Group are former journalists, so we know how to craft great media releases that work for direct-to-social or traditional press distribution.
Read more
Business storytelling: the good, the bad and the downright disastrous